Adaptation as Survival: Tips from a Licensed Therapist on Processing Change
The Greek philosopher Heraclitus said, "Change is the only constant in life." This quote summarizes one of the paradoxes of being human: life is full of changes. This is hard to accept. It may require relinquishing control, or adjusting one's perception of control.
It is natural to fear change or to crave stability amidst a world that never stays the same. With the right support and tools, however, change can feel less scary. We hope this article, with quotes from Simeon Jones, a Licensed Marriage and Family Therapist at NAMHS, provides insight to anyone who has survived trauma or navigated change.
Processing Trauma and Change: First Comes Acceptance
Part of being alive is being surrounded by changing environments. It may be tempting to ignore stressful events and how they impact oneself or one's community.
As Simeon Jones writes in his article Healing from Trauma, "People might not realize they have been affected by trauma." For example, Jones shares that while he was working in a hospital, he witnessed medical professionals move quickly past traumatic events, without time to process the trauma; eventually, a few people started exhibiting unwanted symptoms from a lack of acknowledging the trauma they faced each day. In this example, the change was negative and traumatic, as it referred to people dying or being violent.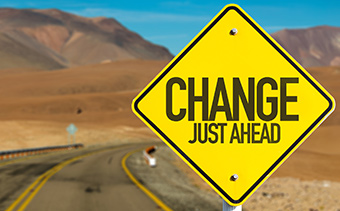 The first step to taking care of yourself in the face of constant change is to recognize that external change. You can ask yourself questions like, "In what areas of my life do I feel like I have no control? What changes in my life have been most difficult to accept? Why?" This self-inquiry is a first step to acknowledging how you react to change and what types of changes may be more challenging for you, should they arise in the future.
Adaptation and Trauma: Is Healing Possible?
Healing from trauma is possible. It is a journey that may feel ongoing at times and without a clear finish line. People in therapy who have experienced trauma and depression often report relief from receiving consistent talk therapy to help them process significant life events.
As Jones writes, "Trauma can change the stories we tell ourselves about ourselves and the world." Everyone has a narrative, if not several, that helps them understand their role in the world. Trauma can flip and warp personal narratives and convince people they are not loved or deserving of love.
For example, children who experience consistent support and care from parents, guardians, teachers, siblings, etc., may develop a personal narrative such as, "I am a good kid. The world is a safe place and people can be trusted." If that same child with that positive, life-affirming narrative experiences abuse from someone they trusted, their narrative may start to shift. Subconsciously, the narrative can morph into, "Sometimes I am a bad kid. Sometimes bad things happen to me that I deserve."
While the latter narrative is not true, it may feel true, especially without professional attention and care.
Survival after Trauma: Why Adaptation is Vital
Continuing with the example in the previous section, the stories we tell ourselves can have a huge impact on how we experience life. The internalized belief in this imagined example may not be true, but unprocessed trauma has a way of convincing people otherwise. Luckily, therapy can help people reassert more compassionate narratives of themselves and help them  unpack how trauma influenced them.
Recognizing the symptoms of trauma is a key first step toward honoring one's inner strength as a survivor. With the rise of online therapy, people can access in-office or online therapy appointments, depending on their preference.
Therapists have a challenging and vital role to help people of all ages, no matter how old or how fresh their trauma is, to understand how that trauma impacts how they view themselves and the world.
NAMHS has in-person therapists in Redding, Eureka, Fairfield, Woodland, and Monterey and online therapy care available via HomePsych.  Request an appointment with us today!