A therapist may provide self-assessment tools like a "life balance wheel" to help people reflect and change their habits. It is always a good time to reflect on how grounded you feel in various areas of your life. A completed life balance wheel is a helpful visual that may make it easier to identify what areas of your life need more attention and care.
We hope this article on balance–complete with a life balance wheel visual–is useful to you on your mental health journey.
What is Life Balance?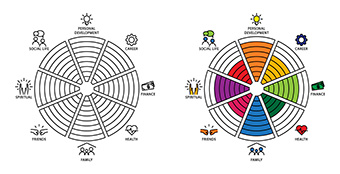 Asking what balance is is a bit like asking what the meaning of life is: you may get different answers depending on who you ask and depending on their personal, spiritual, and social beliefs.
The dictionary from Oxford Languages defines balance as "a condition in which different elements are equal or in the correct proportions." Therapists help people figure out what elements of their life are not in a proportion that feels good, and develop a strategy to realign time and commitments. People can fall "out of balance" when they work too hard and have less time for friends and family; conversely, a toxic relationship might demand more time and attention, and make someone might feel out of balance and unable to devote enough time to their career or hobbies.
Therapists and counselors use cognitive therapy to discuss and address conflicts that people may face in their work-family balance.
How to Use a Life Balance Wheel
First, ask your therapist for a self-assessment tool like a life balance wheel. We recommend pairing this reflection with cognitive therapy, so you can actualize what habits you want to change to move toward balance. If you do not have a therapist, you can still print the life balance wheel from this article. Alternatively, you can draw a circle on a large piece of paper and make your own life balance wheel.
Once you have your life balance wheel, allot at least 10 minutes to sit down and reflect. Rate how satisfied you are, on a scale of 1–10, with each of the 8 categories in your life. On the life balance wheel in this article, those categories include family, relationships/love, career/study, wealth/finance, health/fitness, service/community, social/friends, and spiritual/self-time. Mark the ratings accordingly, so that the higher rankings show more areas filled in toward the outer edge of the circle.
You can also do this activity with your partner or an "accountability buddy" and discuss the reflections afterward that you feel comfortable sharing.
For Best Results, Prioritize Mental Health
Making a life balance wheel can help you realize what is in alignment and what needs fixing. Sometimes, what "needs fixing" is complex. Or, better said, what needs fixing is something that needs healing. For example, maybe after the self-assessment, you feel that you are not satisfied with your social/friends and your health/fitness category. But how do you work toward greater satisfaction in those areas, and in a way that feels sustainable for long-term growth and change?
Remember that therapy changes lives. With the life balance wheel, maybe there are underlying mental health issues at play that influence your satisfaction with various areas of your life. For example, therapy can help you gain tips to ease anxiety and depression, which in turn can influence the relationships in your life.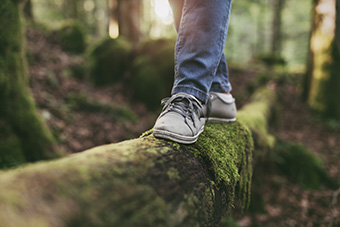 Many people feel that having a therapist keeps them accountable to their goals and also provides a deeper reflection on what their goals are, and why. You also do not need to "hit rock bottom" to consider therapy; many people pursue mental health support when they are doing okay, but have a few areas of their life that they wish felt more balanced. Other people invest in their mental health when they want to gain helpful tools for navigating life.
Find the Right Therapist For You
Speaking with a healthcare professional can also bring balance and clarity into your life. At North American Mental Health Services, we believe that feeling better starts with finding someone to listen to your experiences.
If you or a loved one need help to manage life's challenges, and you are interested in working with a therapist in Redding, Eureka, Fairfield, Woodland, or Monterey, contact us. NAMHS also offers online therapy.